Alumni Speak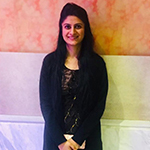 Aaina Mangla
CA Presently working as Management Trainee at GENPACT , Gurugram.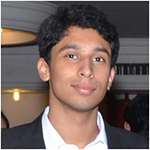 Vidit Aatrey
Founder and CEO, Meesho (YC S16)
Building Meesho to make it super-easy for small businesses to sell online in India. Meesho is a Y Combinator Summer 2016 startup. I have 2+ years of experience in Sourcing, Production Planning, Supply Chain and Operations at ITC Packaging Division. At InMobi, my first role was in the Strategy and Operations team, directly under the Chief Revenue Officer. Program managed several key business initiatives including revenue forecasting, brand agency deal modelling and global quarterly business review. I graduated from IIT Delhi (2012) in Electrical Engineering with interest in Image Processing, Signal Analysis and Quant Models. Awarded Resolution Fellowship for winning the Global Social Venture Challenge at Singapore, 2011, organized by Resolution Project.
---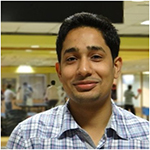 Sufyan Haroon
Computer Scientist at Adobe
He pursued B.Sc. Computer science (Hons.) and M.Sc Computer Science from Keshav Mahavidayalya. He was gold medalist and university topper continuously for five years in Delhi University. Sufyan went on to join Adobe Systems as Member of Technical Staff. His hard work & consistency over the next few years helped him achieve the position of Computer Scientist. He is a 2006 batch pass-out from our school.
---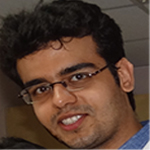 Dr. Shobhit Arora
Dr. Shobhit Arora completed his Bachelors of Dental Surgery (BDS; 2007 - 12) & Masters of Dental Surgery (MDS; 2013 -16) Periodontics & Oral Implantology from Santosh University, Ghaziabad and is currently working as Periodontal consultant at Shivaay Dental &Implant Center. He has published multiple International & national publications. Following are his publications:
Published one international publications during UG at American Association of Pharmaceutical Scientists, Annual Meeting and Exposition, USA
Treatment Of Gingival Recession By Free Gingival Autograft: A Cases Report: Dr. Shweta Bali, Dr. Shobhit Arora And Dr. Priyanka Thukral; International Journal Of Current Research Vol. 8, Issue, 06, Pp. 32619-32621, June, 2016
Rehabilitation Of Atrophic Maxilla With Basal Implant: A Case Report; Dr. Priyanka Thukral, Dr. Shweta Bali, Dr. Nidhi Bhatia and Dr. Shobhit Arora; International Journal of Current Research Vol. 8, Issue, 03, pp. 28601-28604, March, 2016
Post extraction Socket Grafting Using Combination Of Demineralized Freezed-Dried Bone Allograft And Platelet Rich Fibrin (Prf)- A Case Series: Dr. Shobhit Arora, Dr. Shweta Bali, Dr Priyanka Thukral: International Journal of Current Research 7 (12), 24225-24230
Gingival Depigmentation: A Case Report: Shobhit Arora, Shweta Bali, Meenu Taneja, Priyanka Aggarwal, Vaibhav Joshi, Shweta Sinha : Santosh University Journal of Health Sciences 1 (02), 106-108
Treatment of Gingival Recession by Free Gingival Graft- A Case Series: Shobhit Arora, Anoop Bhushan, Shweta Bali, Priyanka Thukral :Bhavnagar University's Journal of Dentistry 5 (3), 52-56
Facial Aesthetics-Review:Dr. Saima Hussain, Dr. Vaibhav Joshi, Dr. Shobhit Arora and Dr Nada Ali: International Journal of Current Research 7 (04), 17577-17582
Soft Tissue Ridge Augmentation Of Maxillary Anterior Region Using Combination Of Allograft And Gtr Membrane: Saima Hussain, Anoop Bhushan, Vaibhav Joshi, Shobhit Arora and Nada Ali: International Journal of Current Research 7 (06), 17448-17451
Presented in 14th ISP national PG convention at D.Y. Patil University- School of Dentistry, Navi Mumbai in 2015 on hard tissue evaluation on immediate implant placement with and without PRF using CBCT.
Poster Presentation:
Presented in Indian dental student conference 2013 at I.T.S. on immediate implant placement with platelet rich fibrin in a fresh extraction socket- a review
Presented in 7th international congress of oral implantology in 2014 immediate implant placement with platelet rich fibrin in a fresh extraction socket- a case report
Presented in IAP conference 2014 held at Mumbai on role of green tea on periodontium.
---
Nikhil Kautilya
Turbine Instrumentation and Control Engineer at Siemens
Having done his engineering from Netaji Subhas Institute of Technology, Nikhil currently works as an Control and Instrumentation Engineer for Steam Turbines and Balance of Plant in Thermal and Combined Cycle Power Plants globally in multi-national framework. Meticulous with multi-disciplinary technical knowledge and awareness of standards and practices. Excellent academics with problem-solving skills, positive attitude and just mix of hard and soft skills. She is a 2007 batch alumnus from our school.
---
VARUN MITTAL
Senior Associate Consultant, Infosys Ltd.
Currently working as senior associate consultant at Infosys Ltd., Varun had completed his B.tech from MDU and MBA from Goa Institute of Management.
He bagged Fourth position at Intel Science and Engineering Fair, Indianapolis, Indiana, USA where 47 countries participated and there were 1200+ projects. He also received Gold medal by the former president of India Dr APJ Abdul Kalam.His research is listed and published under National Innovation Foundation Grassroots Register.
---
MAYANK SINGHAL
PGDM Candidate at IMT, Ghaziabad (2016-18)
Currently pursuing MBA in finance from IMT, Ghaziabad. Have three years hands-on experience in Construction sector while working with Larsen & Toubro and was responsible for Electrical Construction and Commissioning. Rated as Top Performer.
Completed graduation from Delhi College of Engineering in the field of Electrical Engineering in 2013. In spare time he likes to travel and learn about new innovation in tech field.