Health Program
Health Talk on 18th April 2023
SD Public School , Pitampura organised a health talk on 18th April 2023 by Dr.Vineeta Goel(Director and HOD Radiology and Oncology), Fortis Hospital Shalimar Bagh on healthy eating, adolescence related issues and importance of personal hygiene to be maintained by girls during their periods.
She also created awareness among parents and girls about the prevalence of various types of cancers in women, their prevention symptoms and cure. At the end she addressed the problems faced by the students such as stress, anxiety and depression.Students and parents liked interacting with Dr Vineeta and got enlightened.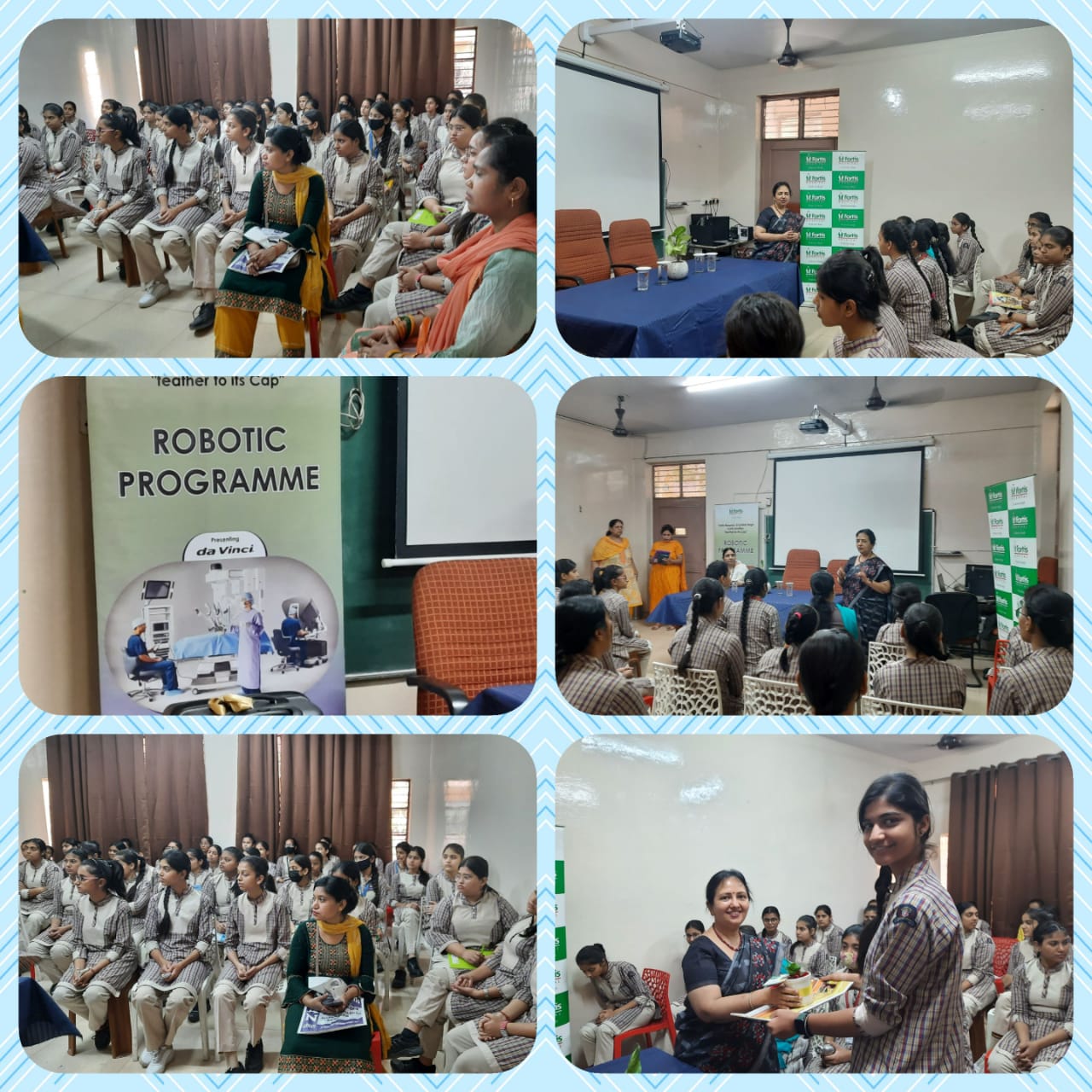 Holistic Health Mela
SD Public School, Pitampura added another feather in its cap by organising a ' Holistic Health Mela' on 26 March 2023 in which free health check up and consultation was done by doctors from prestigious hospitals, Ayush ministry and Rotary Club. Dr Harsh Vardhan, former Minister of Health and Family Affairs was the Chief Guest. The event was a great success under the guidance of the school Principal Mrs Anita Sharma.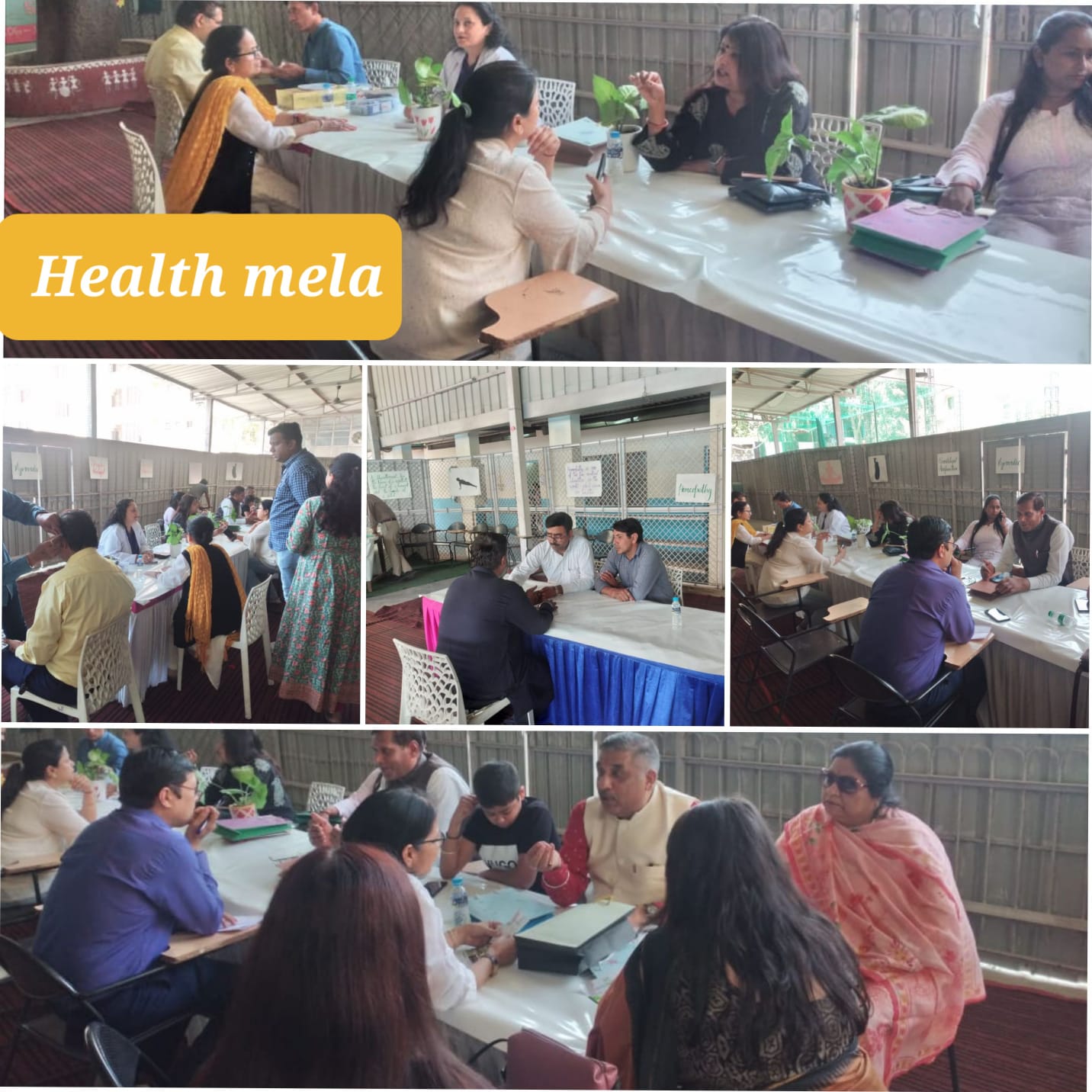 Covid Vaccination camp(23 July 2022)
Another Covid Vaccination Camp was organised at S.D. Public School, Pitampura on 23 July 2022 in which the students between the age group of 12-18 years were vaccinated with 1st and 2nd dose of CORBEVAX and COVAXIN.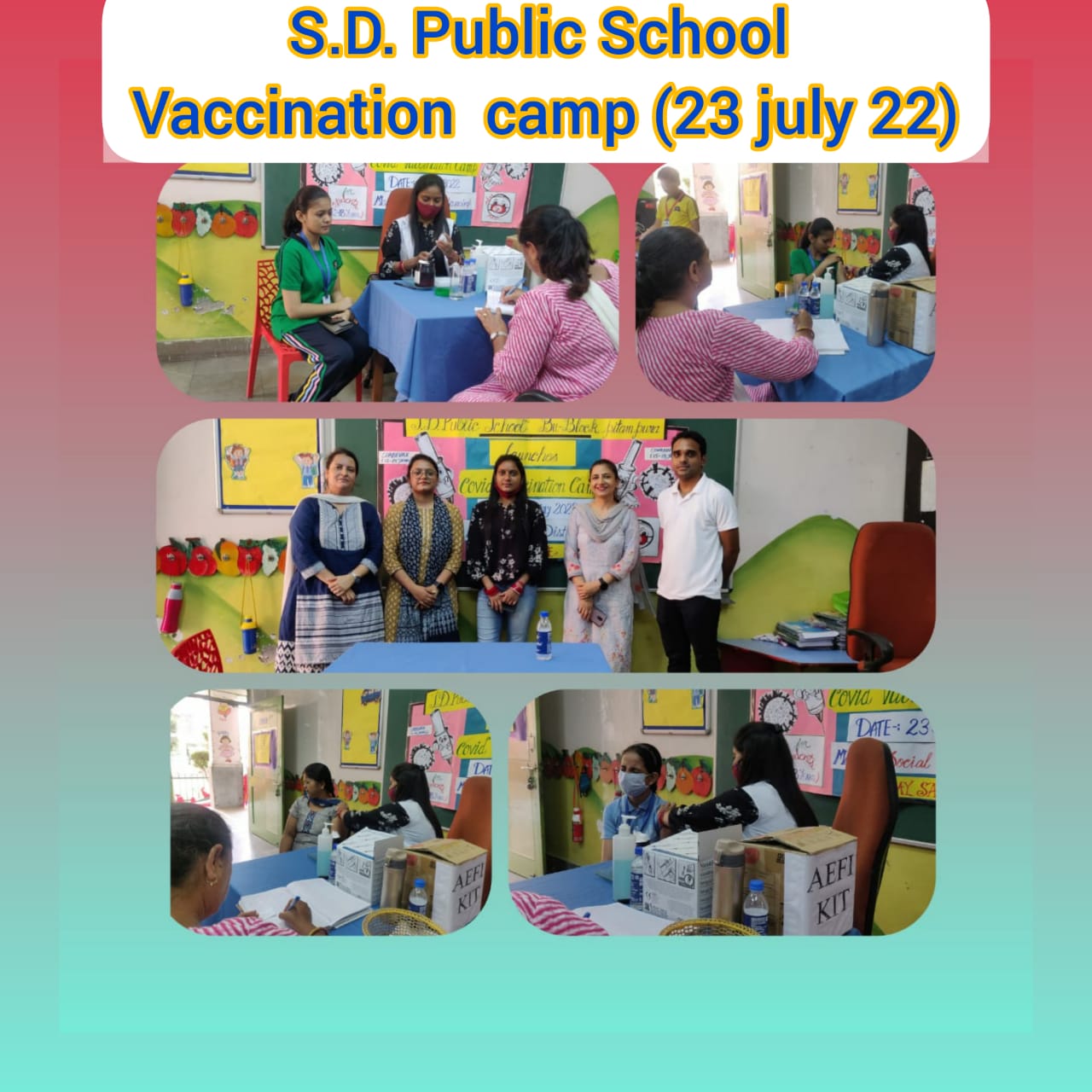 THE HEALTH AND WELLNESS
Good Health is the most valuable core of life. keeping oneself healthy, fit ,tidy leads to good healthy life. S.D.PUBLIC SCHOOL has always motivated its students to keep themselves mentally and physically healthy and strong. Many webinars leading to wellness and fitness were organized to give complete knowledge to students to keep themselves strong and fit by taking proper diet, exercises, meditation etc.lt gives students knowledge to prepare themselves to be a challenger.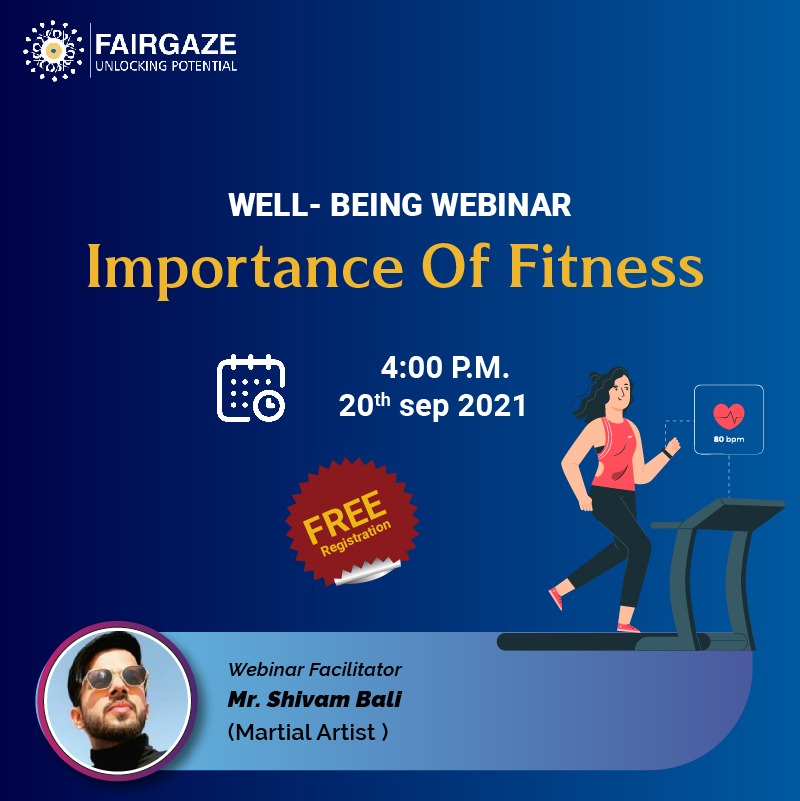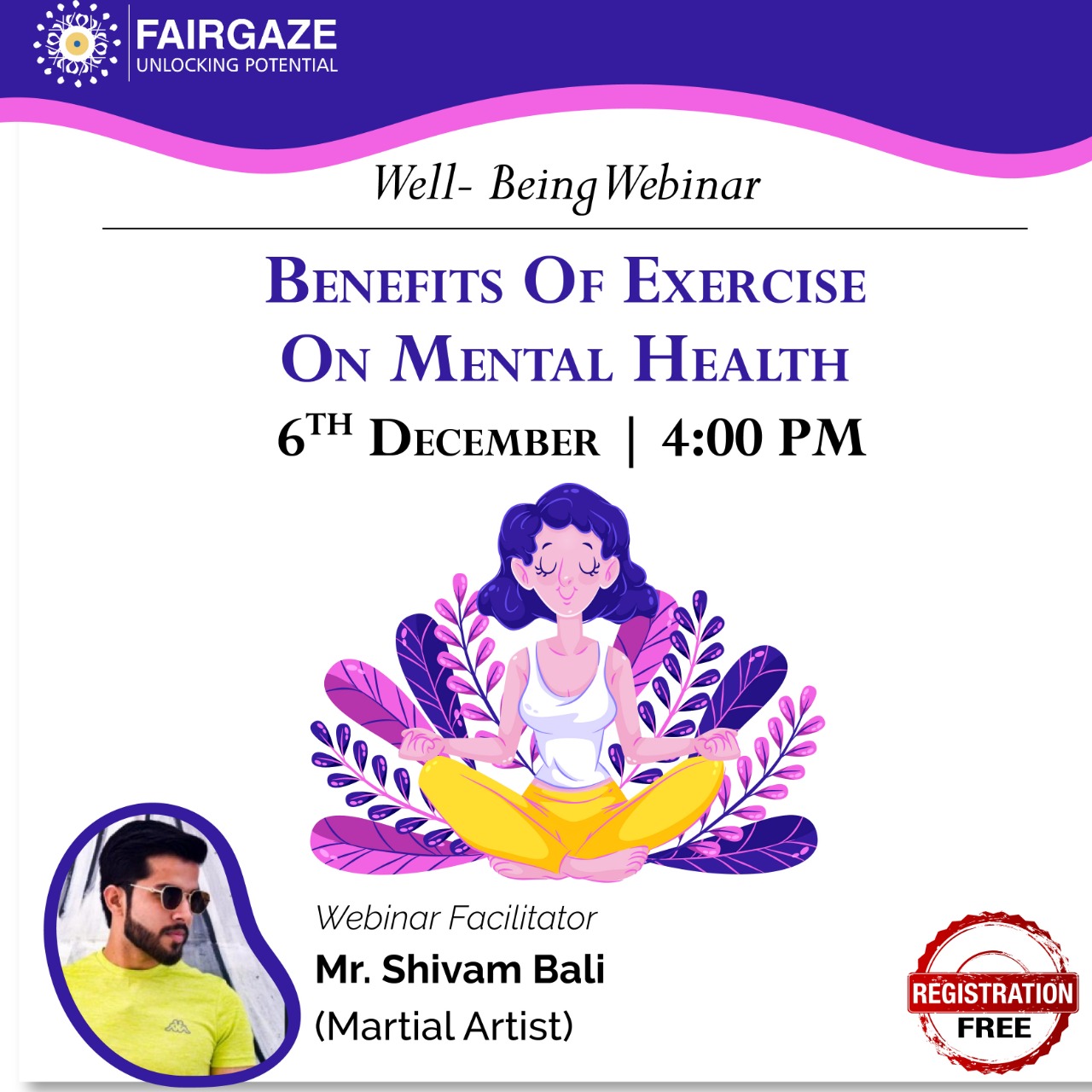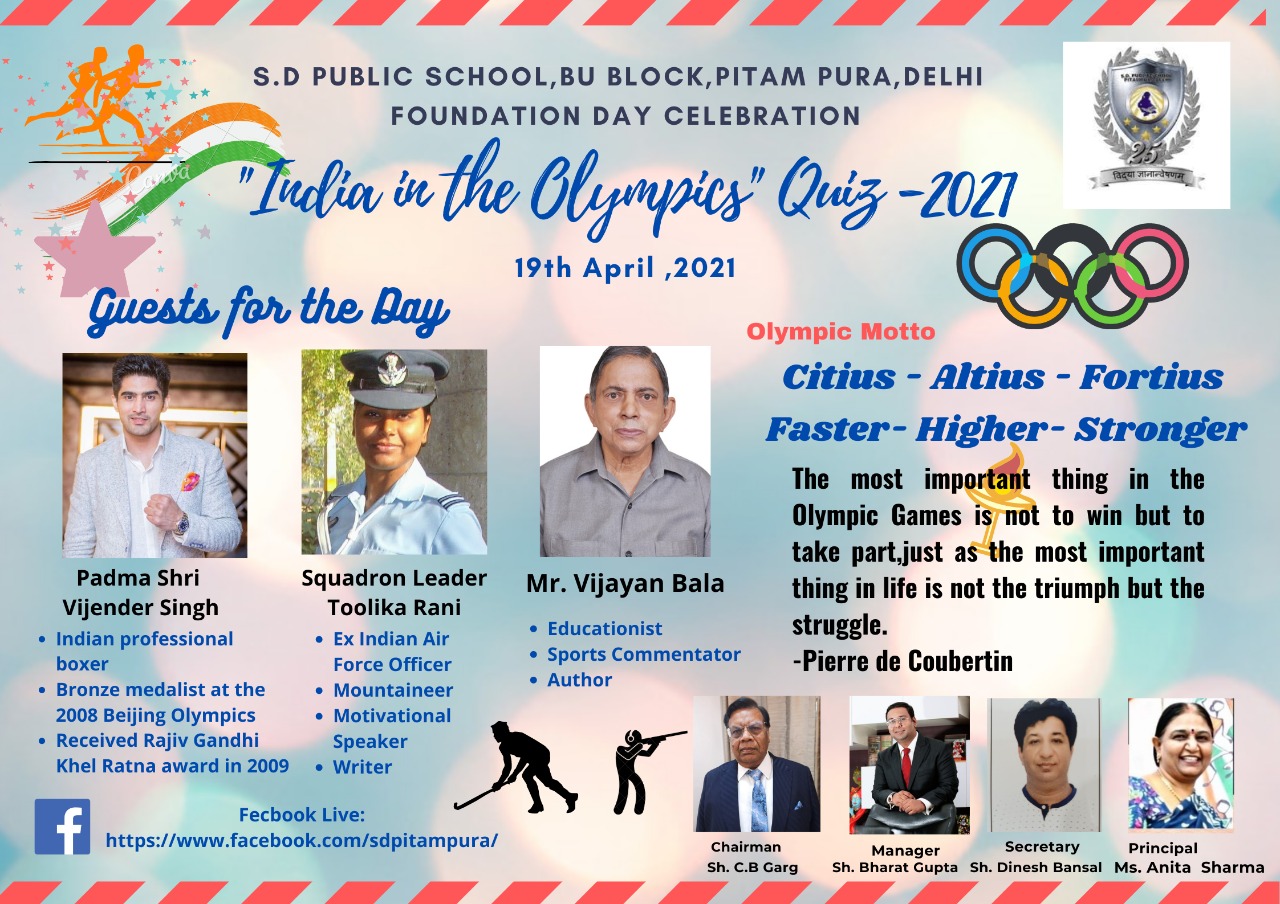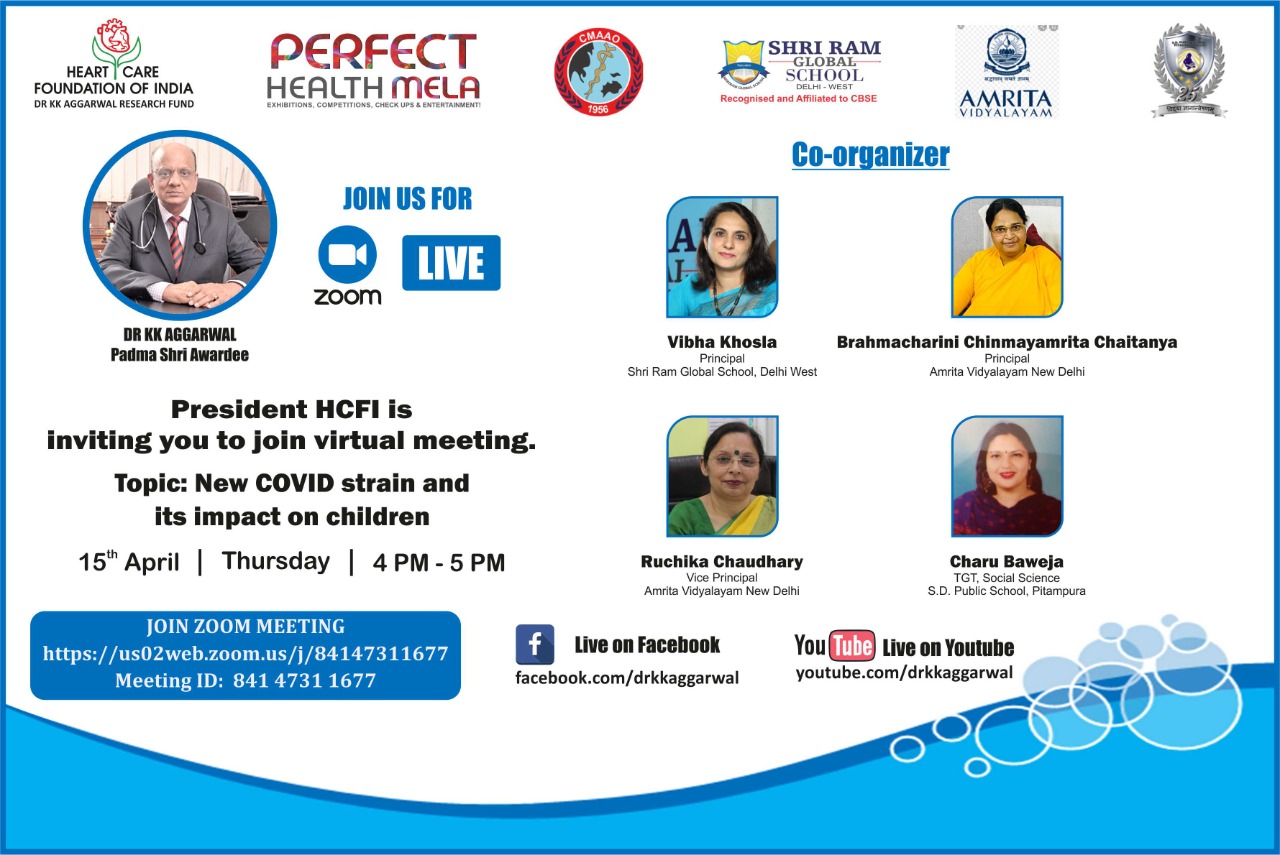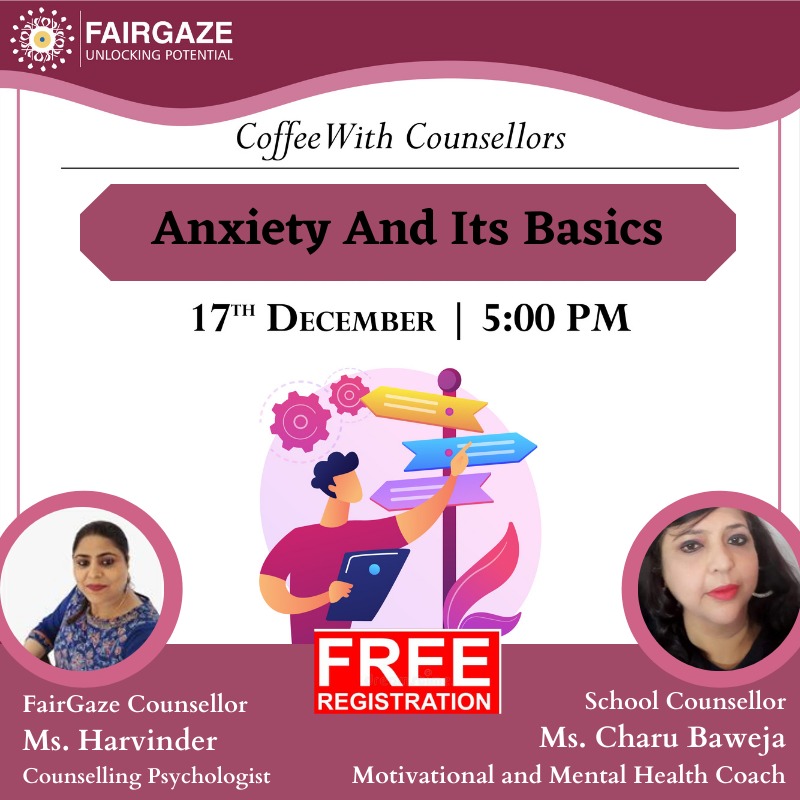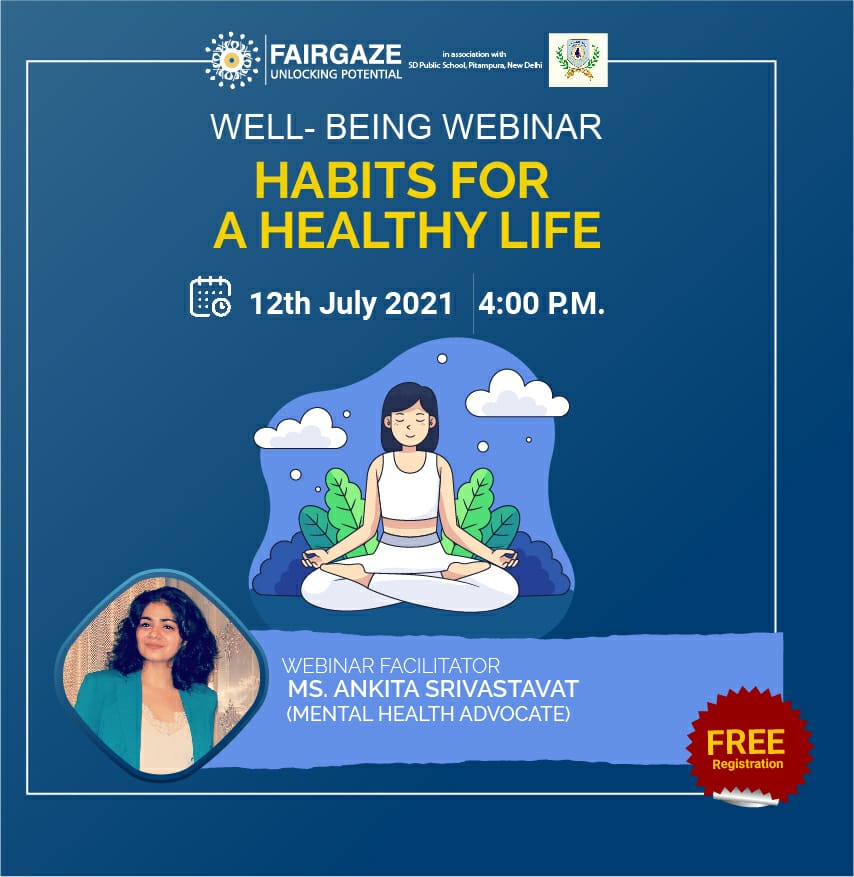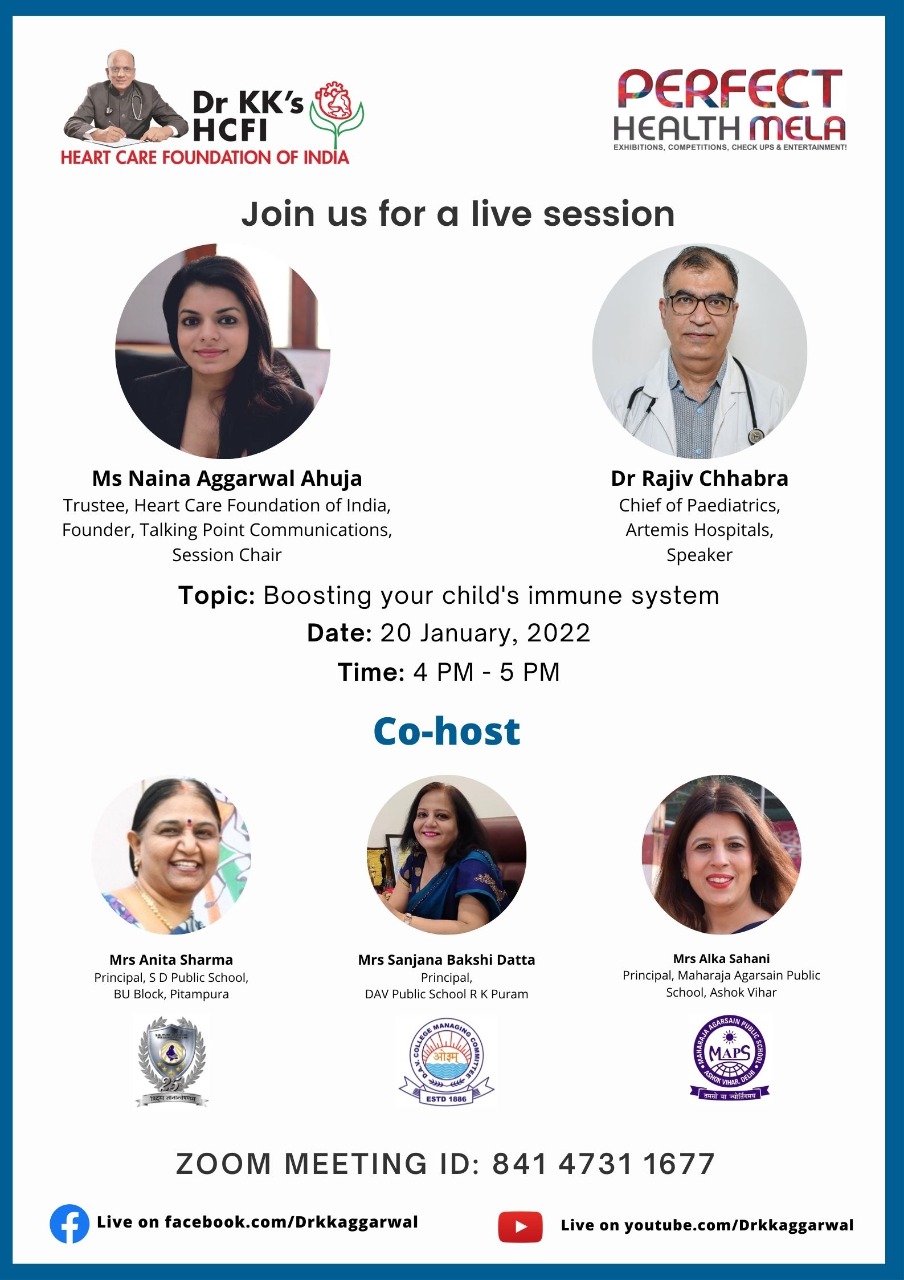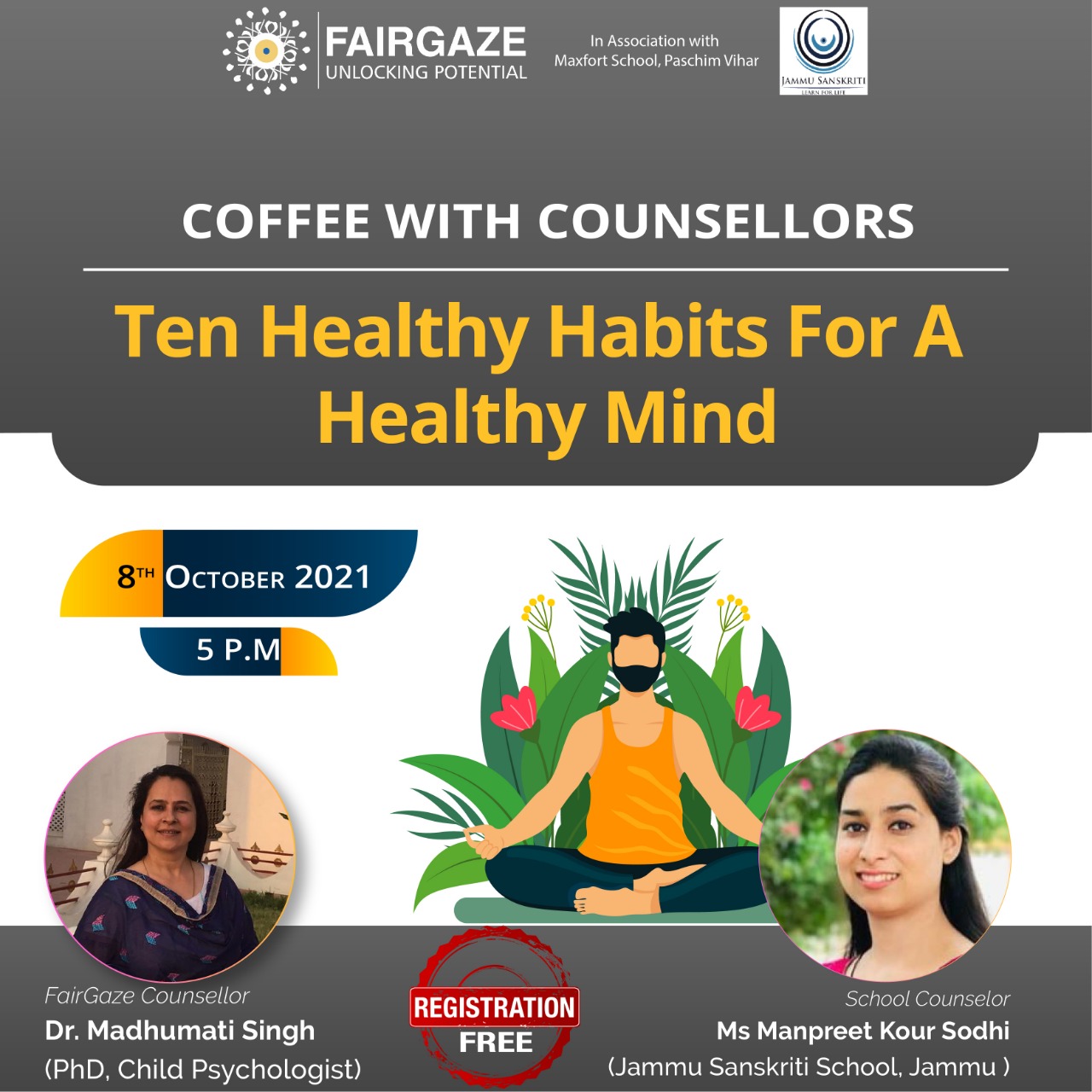 COVID-19 CAMPAIGN
S.D.Public School, Pitampura organised a COVID vaccination camp on 8 February 2022 for the students in the age group of 15-18 years. SOPs ( Standard Operating Procedure) COVID-19 protocols were strictly followed by all those who were a part of this vaccination drive. Sincere efforts of parents,teachers and the supporting staff made this vaccination drive a huge success.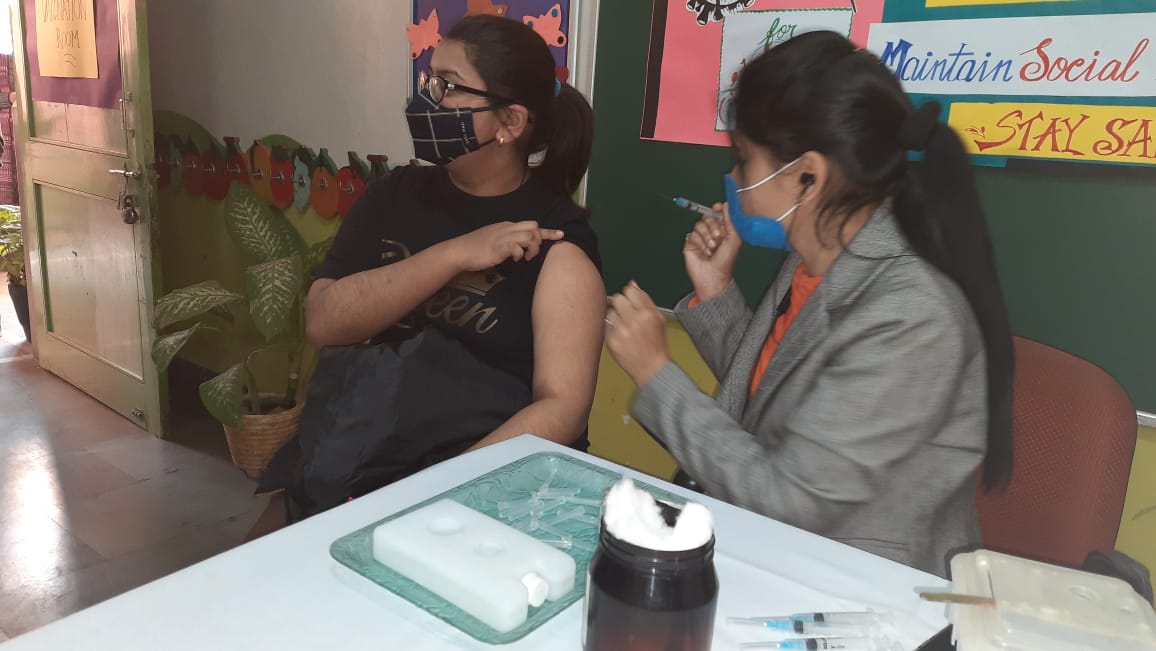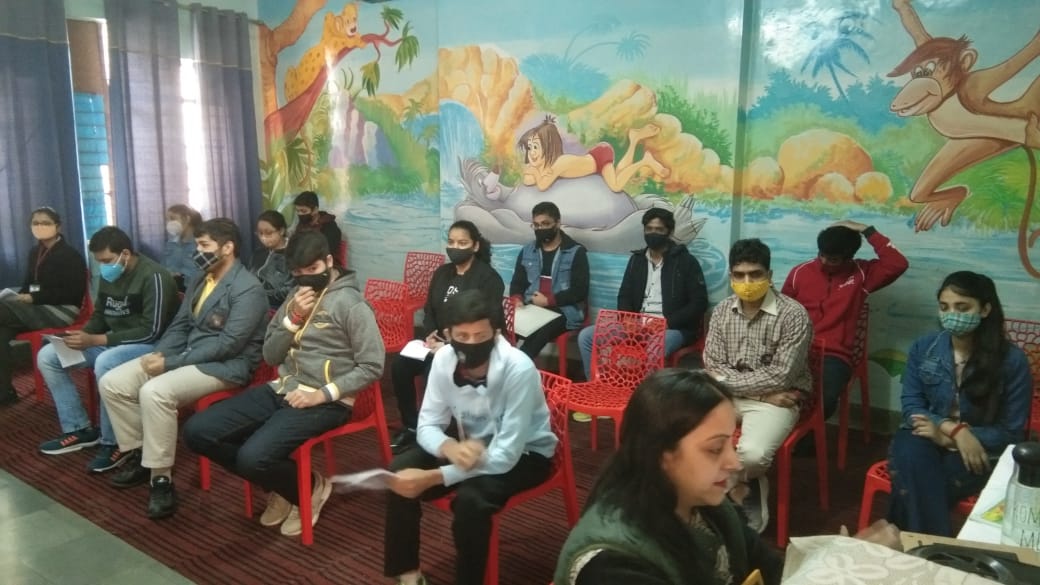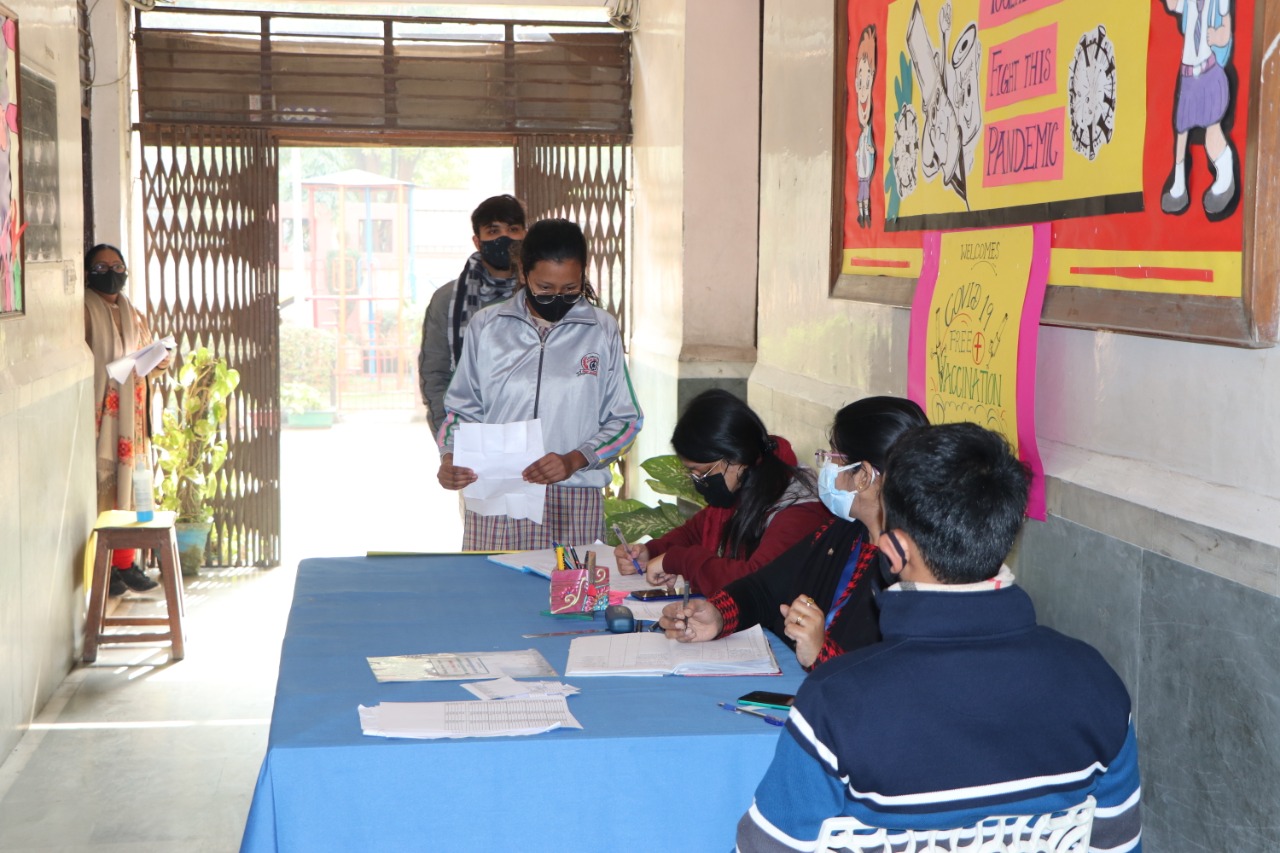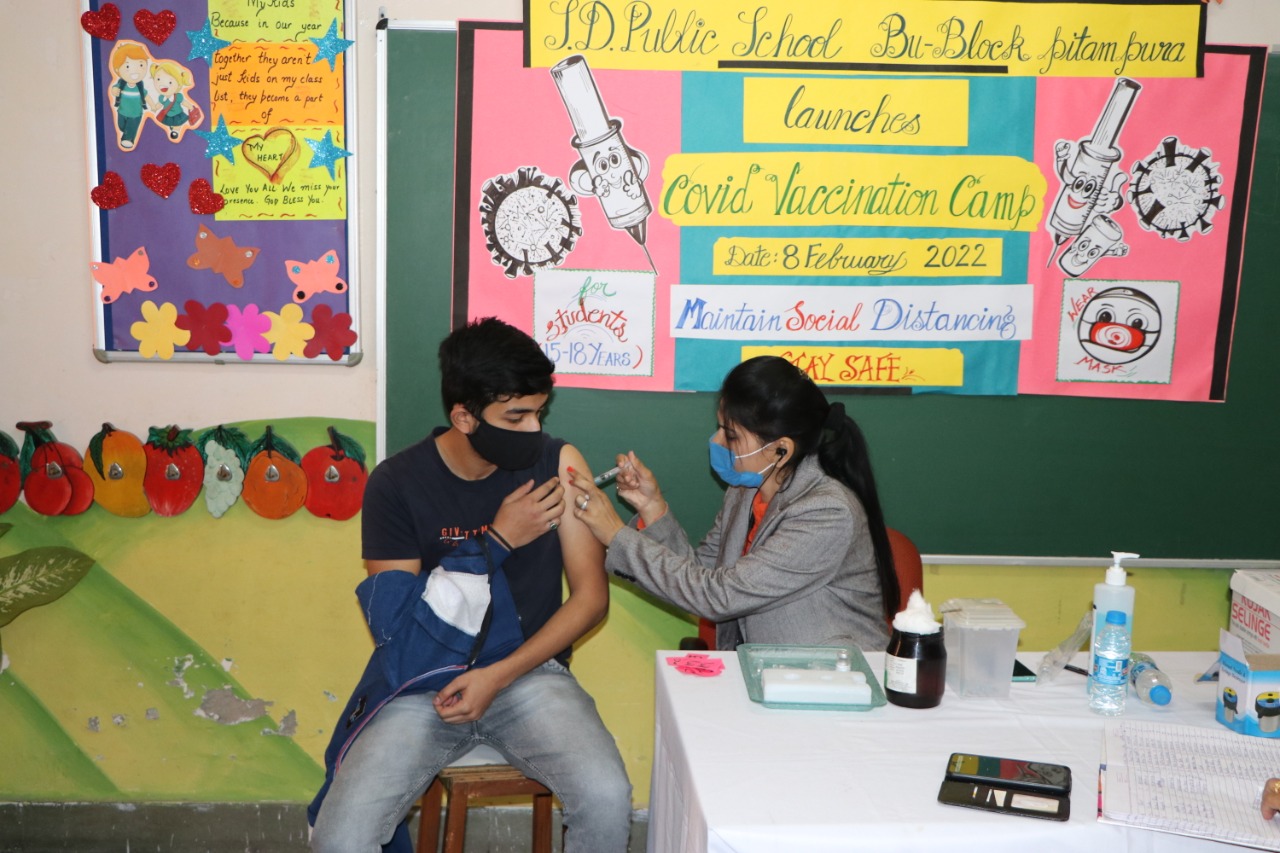 CPR TRAINING - WHEN TO GIVE & HOW
On 15th October.19 a team from Maharaja Agrasen Hospital came to S.D Public School , Pitampura and gave CPR training to students of classes XI and XII. Dr.Rajiv Gupta, Dr.Kapil Dev Chhabra and Dr. Sindhu Pillai demonstrated the techniques to the students and shared their knowledge on when and how to help cardiac victims.
NURSERY AND K.G CLASSES EDUCATIONAL EXCURSION TO LOTS
On 01st October,19 Pre-Primary kids visited LOTS under the theme fruits and vegetables. They were given first hand experience to witness the raw fruits and vegetables. The experience proved to be very enriching and left a permanent impression in their minds.
FOOD DEFENSE WORKSHOP
On 30th September,19 Fairgaze organised a Food Defense Workshop on Non Fire and healthy cooking under the expert guidance of Ms.Sangeeta Madan (Chef). The workshop was enjoyed alot by the students of classes VI to VIII. And they came out with innovative presentation when had hands on experience.
FIRST AID WORKSHOP AND CPR TRAINING
On 28th September,2019 (Saturday) a workshop for classes VII and VIII was organised on the topic FIRST AID AND CPR TRAINING.The resource person Mr.Yogesh from Heart Care Foundation demonstrated various first aid techniques in front of kids. Students felt happy to be a part of such informative workshop and felt confident in using or giving First Aid help to others.
ROLE PLAY ON FRUITS AND VEGETABLES
On 27th September,19 a role play activity was organised for Nursery kids. Kids were elated to get the first hand experience. Overall the activity was very interesting and left a wonderful impact on the mind of young learners.
SHOW AND TELL ON FRUITS AND VEGETABLES
Kids from Nursery class participated in Show and Tell activity on 26th September,19. They spoke 4-5 lines on their favourite fruit or vegetable. This activity boosted their confidence and enhanced their information about various fruits and vegetables.
WORKSHOP ON HEALTH AND HYGIENE IMPORTANCE
On 21.08.19 a workshop was organised by AVAS. Ms.Ruchi, the resource person highlighted the importance of being healthy and maintaining hygiene. The session was followed by question-answer round based on the video shown and a colouring activity was arranged too. The workshop was very helpful for the kids.
Smart Girl Workshop - "I Know, I Can"
A two day workshop on 'Smart Girl' was organised in S.D. Public School on 16th and 17th August, 2019, conducted by an NGO 'Bhartiya Jain Sanghatana' for the girls of class 8 to Class 12. The workshop proved very fruitful in creating self awareness among the girls and also helped to enhance their self-esteem so as to increase their ability to make better choices and take better decisions in every day life. On 2nd day of workshop the parents of girls were also invited where by they were sensitised about the issues concerning their daughters. Both parents and daughters shared their feelings about each other which further boosted up the emotional bonding between them. The workshop was truly a learning exposure for all.
Workshop on Health and Nutrition
On 10th August,19, Dr.Manish Goel naturopath was invited to S.D. Public School, Pitampura to brief parents on various health issues of growing children. He emphasized the role of healthy eating too.
WE ARE ACTIVE & WE ARE SMART
Kids from Pre-Primary Department are exposed to Taekwondo classes for being healthy, strong and fit. Kids enjoy doing this activity and participate with full energy.
SMART CHEFS
SDPS,Pitampura organised an activity wherein students from senior classes learnt the value of healthy food by being a Smart Chef.
AN EFFORT TO BE HEALTHY BY SAYING NO TO PLASTIC
Pre-Primary Department of S.D.Public School, Pitampura has taken a pledge to avoid using plastic for being healthy. Kids are motivated to bring their lunch in steel boxes and say Goodbye to plastic boxes.
WORKSHOP ON PARENTING IN 21st CENTURY
On 6th July, 2019 (Saturday), parents from Nursery to class V attended an enriching workshop on parenting in 21st century At S.D.Public School, Pitampura. Dr.Shweta Wadhwa from Max Multi Speciality Hospital, Pitampura enlightened parents on various parenting techniques. Overall, it was a wonderful session
INTERNATIONAL YOGA DAYS
On 21st June,19 S.D. Public School celebrated International Yoga Day with full zeal. Many parents, school teachers and students came forward to participate in this event. School Principal Mrs.Anita Sharma highlighted the importance behind this day. All performed various yoga styles under the guidance Mr.Hemant (Yoga expert from SDPS, Pitampura)
VISIT TO AIIMS
Twelve students of class XI and XII along with their teachers visited the reputed medical institute AIIMS in the month of April. This was an opportunity for the students to have an exposure to world class medical facilities and technologies in todays life.
HEALTH TALK
S.D Public School , Pitampura invited parents from classes Nursery to V to attend a HEALTH TALK on various issues like bedwetting, hypertension and nutrition in kids. Specialist form MAX Hospital, Dr.Sonia Sharma and Dt.Ruchita Kapur discussed their findings with the parents. Overall, it was an informative session. Many parents were elated to attend the health talk and came up with various questions in relation to their child s health.
LEARNING PERSONAL HYGIENE
On 19th November, 2018 kids from class I participated in the activity where they learnt about Personal Hygiene importance. Demonstration for the same was given by the class teachers followed by an activity sheet for reinforcement.
NON FIRE COOKING: RAINBOW SANDWICH ACTIVITY
On 17th November,2018 kids from class II participated in Non Fire Cooking activity. Since morning excitement was easily visible on the faces of kids , as today they were going to be like a Chef. They all learnt how to make healthy sandwiches under the guidance of their teachers. Then the whole class relished the food made by them.
MTNL PERFECT HEALTH MEAL
Students from S.D. Public School, Pitampura participated with great zeal and energy in MTNL PERFECT HEALTH MEAL from 23rd- 27th October,2018. The mela was full of variety of events for kids and teachers like poster designing, Nukkad Nattak, Yoga, Dramatisation etc. All the activities revolved around the theme Health Is Wealth. Students participated confidently and bagged many positions and laurels to our school.
IMPORTANCE OF HEALTHY EATING AMONG GROWING KIDS
On 23rd October,2018 a workshop was organised for the girls from classes VI to VIII on the theme Healthy Eat Stay Fit. Ms.Neelanjana Singh , Registered Dietician and Certified Diabetes Educator briefed girls from VI to VIII on Four Mantras to stay fit : Health & hygiene, Importance of Exercise, Worm Infestation and Balanced diet. Overall it was an enriching workshop for the girls and they got to know many things which can help them in staying fir and healthy.
AWARENESS THROUGH HEALTH MESSAGES
S.D Public School is geared up to spread awareness on various health issues. For the same school is sending messages through UOLO app to the parents on daily basis. These messages are recommended by Padamshree Dr.K.K.Aggarwal, former President Indian Medical Association.This way school is orienting not only students, parents but our society too.
LAURELS FOR S.D.PUBLIC SCHOOL, PITAMPURA
On 29th September, 2018, Ms.Kamya Dua from S.D Public School, Pitampura was awarded Award of excellence in the field of Health Education from Dr.Sanyam Bhardwaj controller of Examination CBSE and Padamshree awardee Dr.K.K.Agarwal at IMA Auditorium, IMA House, ITO, New Delhi. School Principal Mrs.Anita Sharma was appreciated for her exemplary contribution in the field of health not only for school students and teachers but spreading awareness towards the society too.
FIRST AID AND SAFETY TRAINING
On 21st July,18 , an activity was planned where students from IIIrd to XIIth classes got an opportunity to prepare an individual First Aid Kit for their respective classes. Kids were imparted the knowledge about various material to be kept in the box by their class teachers. The activity was of great use for the kids where they got a chance to open their horizon towards medicinal world.
WORKSHOP ON NEURO LINGUISTIC PROGRAMMING
On 29th June, 18 NLP workshop was conducted for the teachers at SDPS, Pitampura. Prof. Umesh Arya was the cherished guest for the workshop and shared his opinions and findings on REVIVING HAPPINESS AND REMOVING SUBCONSCIOUS RE IMPRINTS OF FAILURE, DERISION & PAINFUL MEMORIES. The session began with the thought provoking questions like How our beliefs are formed? , Who are responsible for their formation? Whether our beliefs makers help us in making it positive or negative? etc. This was followed by programming session where teachers were helped in learning techniques which helped them in overcoming anxiety and stress effortlessly. Demonstrations were given by the guest in learning these techniques. The session awakened and made the teachers more conscious and gave them confidence in believing that they are the creator for their past, present and future, it is in our hands to make our life fill with bright or dark colours. Overall it was an enriching experience for all the teachers.
INTERNATIONAL YOGA DAY
On 21st June, 18 World International Yoga Day was celebrated at S.D Public School, Pitampura. Teachers and parents came forward in big numbers and participated with zeal and performed various asans. Students gave demonstration and explained the importance behind every asans they performed. Parents appreciated the event and learnt the techniques to perform various asans with ease.
WORLD HEALTH DAY
On the occasion of World Health Day i.e 7th April,2018 S.D PS, Pitampura along with Heart Care Foundation of India came forward to spread awareness on various health issues in our society. Dr.K.K.Aggarwal an Indian Physician and Cardiologist, President of the Heart Care Foundation of India and Immediate Past National President Indian Medical Association, non governmental organizations was the chief guest for the day. Various other schools joined S.D PS, Pitampura in Health Awareness Rally. Catchy posters and confident walk attracted many people. Kids participated in the event with great zeal and made an effort to bring transformation in their society and their life too.
CLASS PRESENTATION FROM CLASS II
On 13th February,18 a class presentation on the topic DISABILITY was planned. Students sang beautiful songs like Different People Different Places and Never Give Up, which stealed the heart of everyone.Followed by skit based on inclusive education giving the message that all kids are unique and can do wonders.
DESIGNING A SLOGAN
Kids from Pre-Primary Department participated with zeal in slogan designing activity on the theme EAT HEALTHY which was held on 16th January, 18 . Tiny tots prepared beautiful drawings and further thought provoking message was written on them. The same were displayed in the classrooms and discussion was done with the help of them. Kids were motivated to eat healthy to stay fit and fine.
INTERACTIVE & INFORMATIVE WORKSHOP ON AWARENESS AND PREVENTION OF TB
On 18th December,17 school organised a workshop for classes XI on the theme Awareness and Prevention against TB. Experts briefed students about how , why of this disease. The discussion was accompanied with the powerpoint presentation. It left a powerful impact on the minds of youngsters and they themselves realised that they can play a vital role in eradication of this disease from our society.
HEALTH AWARENESS CAMPAIGN ON THE THEME : HEALTHY & JUNK FOOD
On 13th December,2017 (Wednesday), S D Public School, Pitampura started a campaign named : MISSION HEALTH.The event took place at LALAWAL BAGH DISTT. PARK, PITAMPURA. Tiny tots spreaded the message EAT HEALTHY FOOD AND SAY NO JUNK FOOD with their heart stealing performance on a skit , many students came dressed up as junk food and healthy food. Through role dramatization of grandparents, parents , kids etc they passed the information that BEING HEALTHY IS MY RIGHT. This was followed by a rhyme recitation saying JUNK FOOD GO AWAY……., DON'T SHOW YOUR FACE, AS WE WANT TO BE HEALTHY. Kids presented the rhyme confidently and promised everyone that they will eat green leafy vegetables. In the end Ms.NEELANJANA SINGH , a famous nutrition consultant at PSRI Hospital, gave some healthy tips on Being Healthy to the audience. Many people from audience came forward and interacted with the resource person. Overall the campaign proved fruitful for all especially for the younger ones, as from their active participation they themselves realised the importance of having healthy food in their plates.
INTER HOUSE COMPETITION
Students from Primary Department participated with great enthusiasm in Inter House Competition on the theme Cooking Nutritious Meal With A Loud Appeal. Kids in co-ordination with each other presented a dish without using gas which had higher nutritive value.The activity took place in the month of October,17 was a great success, as many innovative ideas with good nutritive content came forward. Above all , students got to know the importance of various food articles which nature has given to us.
INTERACTIVE SESSION WITH THE PARENTS
Parents from primary classes got the opportunity to interact with Dr.Vivek Jain from Fortis Hospital, Shalimar Bagh during an interactive session and discussion on the topic Child safety and Child abuse in school premises on 13th October,17. Major highlights of the programme was on healthy eating among kids. As per Dr.Vivek Jain if a child eats healthy he becomes ready to deal with different problems coming his way. Parents were motivated to adopt right type of parenting so, that their child should share each and every thing with them. Overall the session was quite fruitful and many parents came forward with beautiful questions which were answered by Dr.Vivek and the solutions helped parents in satisfying their curiosity.
EATING HEALTHY AND STAYING FIT
An interactive session was organised on 23rd September,17 for Primary classes by Food Safety and Standard Authority of India under the Ministry of Health and Family Welfare, Government Of India.The session aimed at spreading awareness about safe and nutritious food. A skit on the importance of healthy food was presented by Mascots, Master and Miss Sehat which was followed by a quiz.Overall the session was quite interesting and was enjoyed by kids a lot.
COOKING HEALTHY FOOD BUT WITHOUT FIRE
Pre-Primary Department of SD Public School, Pitampura organised competition for parents and kids on the theme BEING HEALTHY IS MY RIGHT. Tiny tots along with their mother and grandparents prepared yummy dishes without using gas. Parents participated in the event with zeal and prepared nutritive food in co-ordination with each other. Mothers were glued when they saw their kids performing. School Principal Mrs.Anita Sharma appreciated the efforts of the parents. Overall the activity took the parents back to their childhood time and students felt elated participating in the event with their loveable mother, father and grandparents
CLASS ASSEMBLY BY 8-A
Students from class 8-A came forward with a thought provoking assembly on the theme Eating Smart Is Also An Art. It was well presented on 24th April,17.The assembly was an amalgamation of role play, short skit etc. Students prepared eye catchy props and slogans for their performance which added colours to their performance.